2022 Ford F-150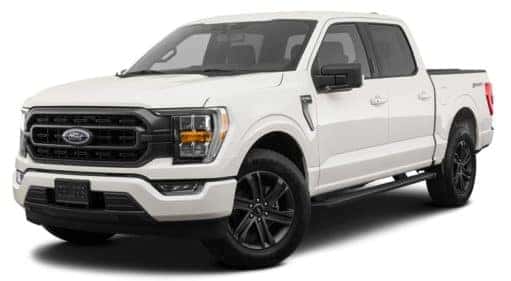 Starting at
$29,990a
2022 Chevy Silverado 1500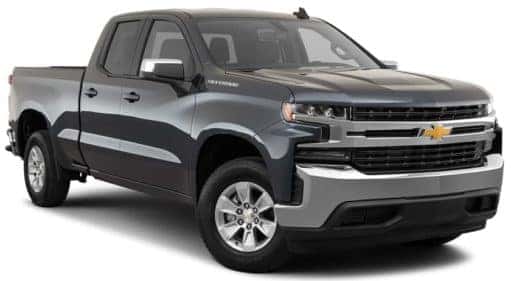 Starting at
$31,695
| | | |
| --- | --- | --- |
| 290-430 | Horsepower (hp) | 277-420 |
| 265-570 | Torque (lb-ft) | 383-460 |
| 14,000 | Towing (lbs) | 13,300 |
The long-rivaled history between Chevy and Ford continues with the 2022 model year outings for the full-size F-150 and Silverado 1500. The two light-duty pickup trucks offer a series of compelling features and impressive benchmarks when it comes to utility and performance. The 2022 Ford F-150 vs 2022 Chevy Silverado 1500 is one of the closest match-ups yet, and that spells good news for truck shoppers looking for the highest quality pickup that the market has to offer.
The 2022 Chevy Silverado 1500 is available in nine different trims, including the entry-level WT, the Custom, Custom Trail Boss, LT, RST, LT Trail Boss, LTZ, the all-new ZR2, and the High Country. The 2022 Ford F-150 is available in the base XL, the XLT, Lariat, King Ranch, Platinum, Limited, and the off-road-ready Tremor. You also get both vehicles in a number of rich color options, with the Silverado being available in many different exterior colors and a handful of interior color options, while the F-150 is also available in ten different exterior colors, with two secondary colors for a two-tone exterior. This is in addition to having optional interior colors and materials available as well.
Performance

Head-to-Head Battle
The Chevy Silverado and Ford F-150 have been battling head-to-head for years with a line-up of powertrains that have competed for dominance in the light-duty pickup truck segment. Both trucks vie to rule the market with top fuel economy ratings, horsepower, or torque, whenever and however possible. The same applies to the 2022 Ford F-150 vs 2022 Chevy Silverado 1500. The 2022 Silverado 1500 comes equipped with four different powertrain options, while the Ford F-150 offers five different powertrain options.
2022 Silverado Engines
The Silverado 1500 has an all-new revamped 2.7-liter turbocharged 4-cylinder headlining its 2022 model year powertrain line-up. It bolsters quicker access to lower-end torque and tops out at 310 horsepower and 430 pound-feet of torque. It's followed by a 5.3-liter EcoTec3 V8 with 355 horsepower and 383 pound-feet of torque, a beefier 6.2-liter EcoTec3 V8 with 420 horsepower and 460 pound-feet of torque, and finally, a 3.0-liter Duramax turbocharged inline 6-cylinder diesel engine with 277 horsepower and 460 pound-feet of torque.
The Silverado 1500's power plants are all paired up with a 10-speed automatic transmission, with the exception of the 2.7-liter turbocharged high-output 4-cylinder, which is mated to an 8-speed automatic. With the standard inclusion of StabiliTrak, the Silverado 1500 maintains stability and electronic traction control no matter the surface. However, the Silverado has massive competition in the form of the F-150.
2022 F-150 Engines
Ford's light-duty pickup has a 3.3-liter V6 power plant with twin-independent variable cam timing as the standard engine, producing 290 horsepower and 265 pound-feet of torque. The 2.7-liter EcoBoost V6 manages 325 horsepower and 400 pound-feet of torque, while the 3.5-liter EcoBoost V6 tops out at 400 horsepower and 500 pound-feet of torque. For beefier power output, a 5.0-liter V8 that manages 400 horsepower and 410 pound-feet of torque is available. And finally, a 3.5-liter PowerBoost turbocharged V6 Hybrid is available for select trims, giving you access to 430 horsepower and 570 pound-feet of torque.
The F-150's engines are matched up to a 10-speed automatic transmission, but the PowerBoost V6 Hybrid is paired with a hybrid electronic transmission that is attached to a 35-kilowatt electric motor. This helps split the load between the traditional combustion engine and the electric motor, an option that the Silverado 1500 simply does not have. In fact, across the entire powertrain line-up, the F-150 simply has the better options, especially when it comes to top-end torque and high-end horsepower, where it outshines the Silverado significantly. The F-150 also features AdvanceTrac, which not only comes with stability and traction control, but also features anti-roll tech thanks to the Roll Stability Control gyroscopic sensors.
Towing/Payload

Ford Tows and Hauls More
Light-duty trucks are famous for pushing the envelope when it comes to towing capabilities and payload capacities. However, the Silverado 1500 has always struggled over the years to match the F-150's conventional tow ratings. The same applies in the 2022 Ford F-150 vs 2022 Silverado 1500 match-up, with the Chevy pickup coming up short once again to its Ford counterpart.
The Silverado 1500 has a max tow rating of 13,300 pounds. It's nothing to scoff at, but it still fails to meet the F-150's highly impressive 14,000-pound tow rating. In other words, Ford's truck manages to outdo the Silverado by 700 pounds, which is the difference between various camper sizes and a major factor in what sort of cargo you may stuff into an attached trailer. Whether for conventional, 5th-wheel, or gooseneck trailering, the Ford F-150 still beats the Silverado 1500 handily.
The same applies to the two trucks when it comes to payload ratings and capacity. The Silverado 1500 in recent model years has managed a payload rating of up to 2,431 pounds, which isn't bad, but still fails to stand up to the F-150. Ford's built-tough pickup for the 2022 model year has a max payload rating of 3,325 pounds. This gives the F-150 nearly a 1,000-pound advantage when it comes to payload capacity. No matter how you cut it, the F-150 beats the Silverado 1500 both in towing and payload ratings.
Technology

Work Smarter With Ford
Technology isn't just about all the fancy gadgets and smart device connectivity. Technology also plays a big part in the way the vehicles operate as well, such as with StabiliTrak for the Silverado and AdvanceTrac for the F-150. In the case of the Ford F-150, there is some nifty tech to help with the performance and fuel-saving mechanisms, thanks to the Drive Modes. The F-150 has a total of eight different modes, including Normal, ECO, Sport, Tow/Haul, Slippery, Deep Snow/Sand, and Mud/Rut. Each mode allows you to easily modify how the F-150 performs on a surface and how the drivetrain utilizes traction control to traverse over certain kinds of terrain, whether in two-wheel drive or four-wheel drive.
The F-150 also comes standard with the Ford Co-Pilot360 suite of technology, handling both drive control and safety features, and offers the patented Trail Control technology with one-pedal driving for hill climbing. The Co-Pilot360 also comes with a number of safety features, including cross-traffic alert, blind spot sensors, curve control, intersection assist, and advanced trailering technology. The Co-Pilot360 suite is topped off with the available BlueCruise semi-autonomous driving system, which is available for select trims.
Chevy's Work Tech
The Silverado 1500 has its own suite of safety features, including available blind spot monitoring, lane change assistance, and Teen Driver mode. A beefy collection of trailering technology, including HD cameras, is also available, along with the availability of the semi-autonomous driving tech known as Super Cruise. Drivers have access to thousands of miles of road across North America that can be traveled with Super Cruise. The Silverado also has available OnStar and Chevrolet Connected Service support.
While the Silverado and F-150 both offer great infotainment features, with integrated support for Apple CarPlay and Android Auto, as well as Bluetooth and voice-activated media controls, there's still a gap in the technology offerings. The 2022 Ford F-150 vs 2022 Silverado 1500 shows a lot of advantages in favor of the F-150 when you consider it comes with Drive Modes, as well as the enhanced voice recognition software and upfitter switches for those planning to use the F-150 for commercial work. In the end, the F-150 is a fully equipped full-size pickup that still manages to edge out the Silverado 1500 where it counts.