6 Reasons Why are People so Excited about the Bronco Sport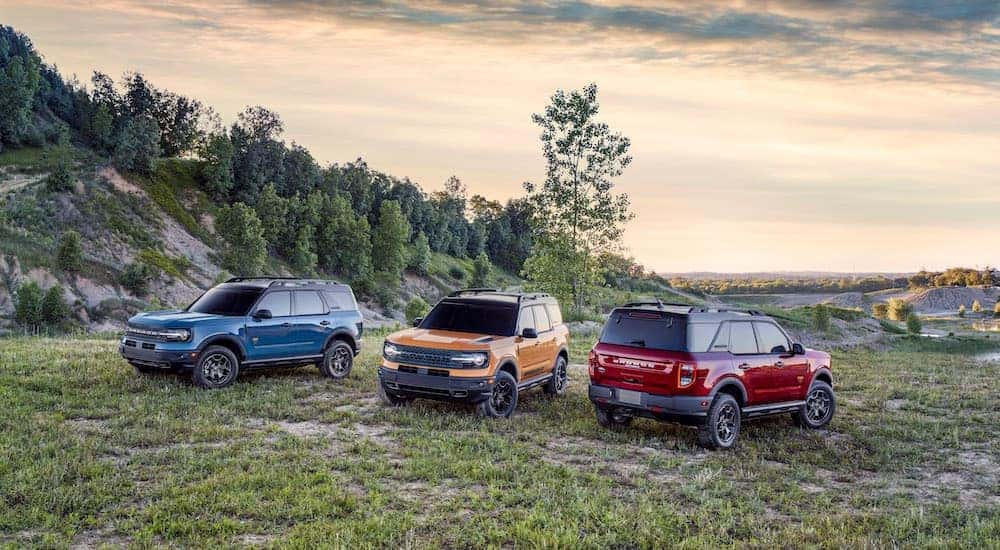 First released in the 1960s, the Bronco was one of Ford's most iconic SUVs, with a popular run that lasted for 30 years and numerous generations. In the mid-1990s, however, the large size and two-door design of the Ford Bronco felt outdated, and it was discontinued to make room for other SUVs in Ford's lineup. After numerous rumors and hopes that it would make a return, at long last, you will once again find the Bronco at your favorite Mount Washington Ford dealership, with a bold new look and an off-road design that is going to make it the undisputed king of the trail.
Perhaps best of all, the Ford Bronco has returned with an all-new option: the Ford Bronco Sport. This is a smaller model that still brings along amazing performance and great features. If you're looking for a compact option that's still clearly designed to conquer the trail and be your perfect choice for taking on an adventure, then the Bronco Sport is the way to go. This has a lot of people very excited to get to enjoy everything it has to offer, and we thought that it'd be fun to take a moment to look at some of its most exciting features.
#1 – Compact Design with Plenty of Space
Unlike its full-size design from the past, the new Ford Bronco is a midsize model, but those looking for an even smaller option are very excited about the Bronco Sport and its compact size. This makes it a great choice for fitting into a lot of people's lives, plus the smaller stature is really ideal for a lot of off-roading. If you tend to enjoy trails on mountain passes where you can find yourself navigating narrow roads and squeezing through canyons, then the smaller size of the Bronco Sport is perfect.
And yet, despite its compact design, it still has more than 65 cu.ft. of total cargo volume available inside or seating for up to five people. So if you have a family that you like to take with you, or you and your partner like to pack up for a long weekend of adventure, then you can easily get everyone (and everything) you need into the Bronco Sport. With the extended roof, you can even fit two bikes, standing up, inside the vehicle.
#2 – Amazing Off-Road Functionality
We'll get into some of the most impressive off-road features of the Bronco Sport in a moment, but it's worth pointing out that it has an overall design that's perfect for hitting the trail. For example, the Badlands trim features more than 8 inches of ground clearance plus excellent approach and departure angles. This lets you easily clear small objects on the ground and crawl over uneven terrain without damaging your vehicle. Plus, the Bronco Sport features more than 23 inches of water-fording capability, so you can handle pretty much anything the trail throws at you.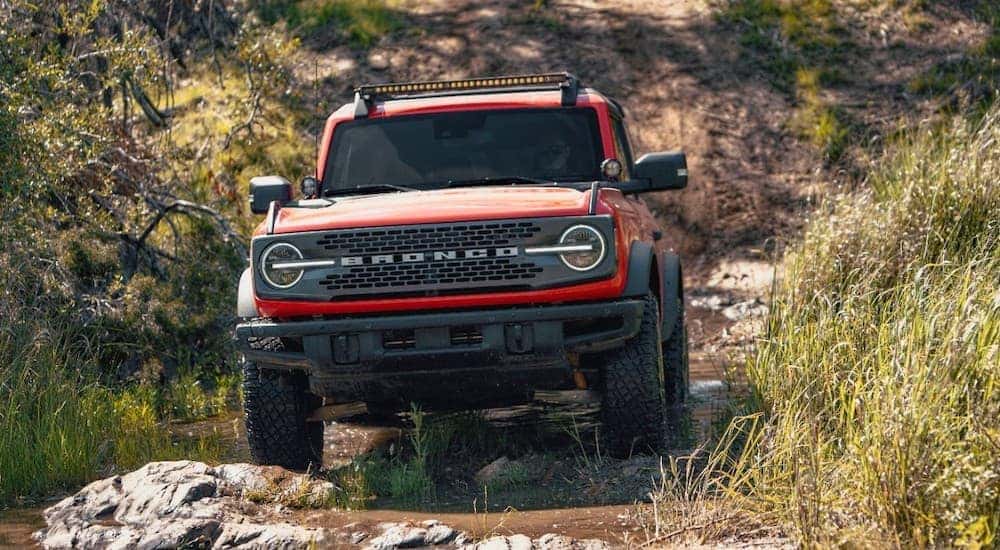 #3 – 4×4 Standard
A surprising number of vehicles out there are advertised as being designed for going off-road but then come with two-wheel drive standard, forcing you to pay more for 4×4. With the all-new Ford Bronco Sport, however, 4×4 comes standard on every model. So no matter which trim and features you choose, it will always be a good option for going off-road. However, some trims have more off-road design and functionality, so keep that in mind when considering your options.
The most capable trim is the Bronco Sport Badlands, which features an impressive twin-clutch 4×4 system. This allows it to send torque to a single rear wheel if needed, so even if you're stuck on an uneven spot or one wheel is really in the slop, the other wheel can still do work and get you going again. Virtually all of the rear axle torque can go to either rear wheel, which lets you conquer even the toughest and trickiest trails.
#4 – G.O.A.T. Modes
One of the biggest reasons a lot of people are excited about the Bronco Sport is the all-new Goes Over Any Type of Terrain (G.O.A.T.) modes that it comes with. This is the Bronco Sport's terrain management system, and it is absolutely fantastic, letting you easily adjust the vehicle's traction settings. As conditions change while you're going off-road, or you switch from a paved road to a trailhead, your vehicle can adapt right away.
The standard G.O.A.T system includes five different modes, which you get on every Bronco Sport model. These include Normal, Eco for boosted fuel economy, Sport for improved performance, Sand, and Slippery. If you choose the Badlands trim, then you get two additional modes: Mud/Ruts for especially wet and messy conditions and Rock Crawl for low-gear maneuvering over large rocks and boulders. Combined with the twin-clutch rear drive unit of the Bronco Sport Badlands' 4×4 system, these G.O.A.T. modes provide excellent agility and control.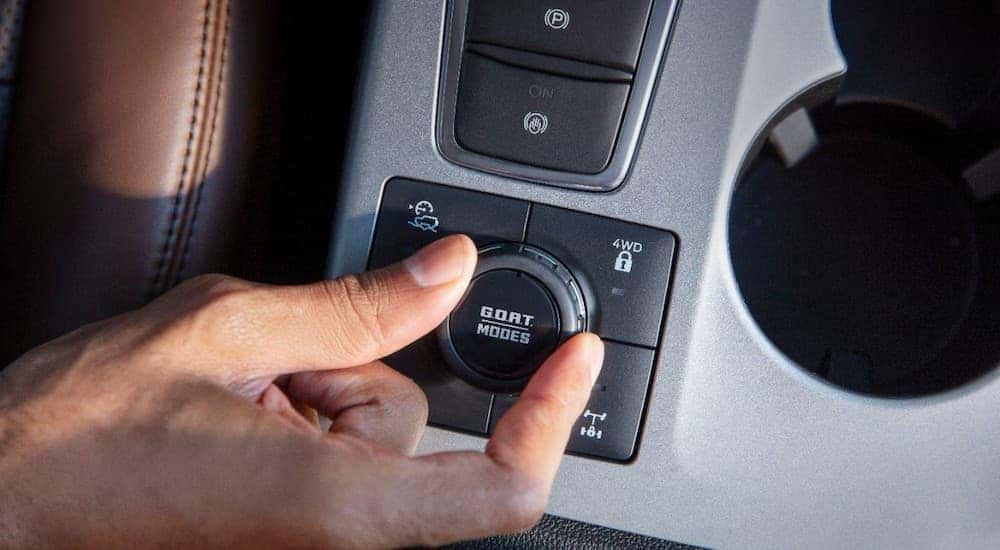 #5 – H.O.S.S. Suspension
Further evidence of just how perfectly designed the Bronco Sport is for going off-road, every model comes with the new High-Performance, Off-Road, Stability, Suspension system (H.O.S.S.) standard. This impressive suspension system not only keeps you in control on rough terrain but also ensures you remain as comfortable as possible. It features uniquely tuned front struts with hydraulic rebound to prevent especially jarring bumps and drops on the trail.
The H.O.S.S. suspension also includes 46mm-diameter monotube rear shocks to improve the vehicle's responsiveness and help keep you comfortable while going off-road. Softer springs and anti-roll bars also help give the Bronco Sport improved articulation when maneuvering off-road and crawling over obstacles on the trail. Altogether, this system provides you with a smooth ride, no matter how rough and unpredictable the trail becomes.
#6 – Impressive Technology
With so much fantastic technology and design going into the off-road functionality of the all-new Ford Bronco Sport, it can be easy to overlook what's happening inside of this awesome SUV. However, that would be a mistake as the interior features will keep you comfortable and provide a truly amazing driving experience both on and off the road. An 8-inch infotainment display is perfect for setting up music, keeping track of navigation, and handling other features, while an available B&O Premium sound system offers an incredible experience whether you're running errands or enjoying a breath-taking vista.
Perhaps best of all, every Bronco Sport comes with Ford Co-Pilot360 advanced safety technology to protect you and your loved ones on the road. This includes a pre-collision assist system with automatic emergency braking, as well as a blind spot information system with a cross-traffic alert. You also get a lane-keeping system, automatic high-beam headlamps, and a rear view camera, all standard. An available 180-degree off-road camera with split-view functionality can act as a spotter and give you an excellent look at the trail, so you can maneuver through rough terrain and tight obstacles with confidence.
Ready to Find Out More?
As you can see, the all-new Ford Bronco Sport has fantastic features and technology. Anyone looking to get a compact SUV for going off-road has plenty of reasons to get excited about the Bronco Sport and everything it has to offer. Call or come visit us at Town and Country Ford today to find out more, and we'll help you find the perfect vehicle for your next great adventure.