The 2021 Ford Bronco Sport: Ready for Adventures When You Are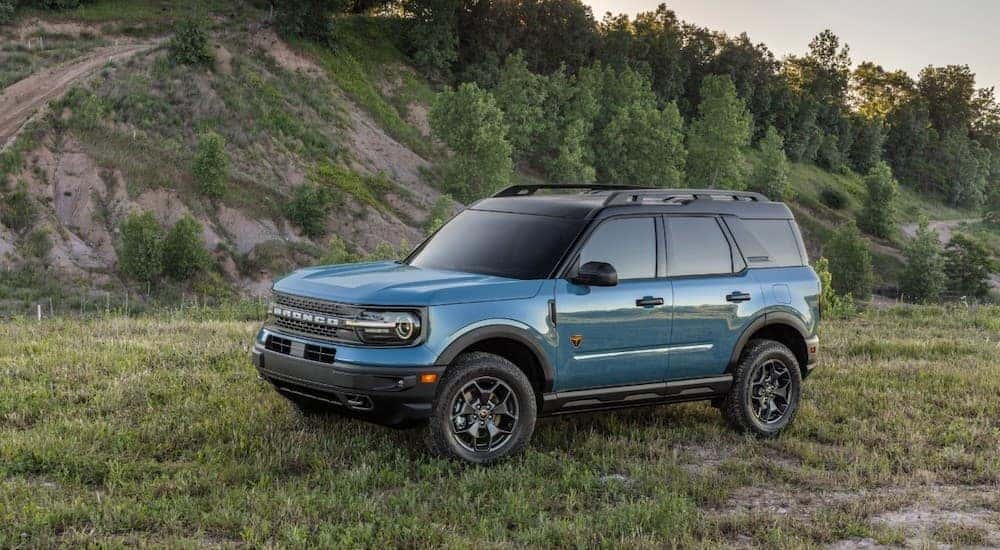 There are plenty of hardcore off-road vehicles out there, decked out in impermeable skid plates and featuring sky-high lifts that would make Mount Everest feel like a speed bump. These trucks and SUVs take their off-road duties very seriously and are to be commended for a job well done. Unfortunately, those dedicated off-road vehicles pay for their capabilities with rough rides and poor fuel economy. If you want something that can split the difference and be equally at home on the road or on the trail, then it is time to visit your nearest Ford Bronco Sport dealership.
The new Bronco Sport is built for the sort of adventurous soul who needs more than your average family SUV can offer but who is still looking for a vehicle that is comfortable and efficient on the highway. You don't exactly need an off-road-ready beast of an SUV, but it would be nice if you could leave the pavement on the weekends to camp, fish, kayak, cycle, or any of the million awesome things you can do when you leave the workaday world far behind. The all-new 2021 Ford Bronco Sport is absolutely adventure-ready, but it can also glide down city streets, park neatly at the grocery store, and is easy on gas as well. If you're looking for just the right level of excitement and a well-behaved family vehicle, the Bronco Sport might be exactly the right fit.
The Power Behind It All: 2021 Ford Bronco Sport Performance
The Ford Bronco Sport is a compact SUV, which means it's smaller than the full-sized Bronco. What sets the Bronco Sport apart from the rest of the SUVs in the segment is its ability to go beyond the standard commute. While other SUVs offer all-wheel drive as an option, every Bronco Sport includes standard 4×4 capability with lock mode.
There is also a choice of two engines on the 2021 Ford Bronco Sport. The first, which comes standard on most models, is the 1.5L turbocharged inline-3. This engine provides more gusto than you might expect, with 181 horsepower and 190 lb-ft of torque. The top Badlands trim, as well as the 2021 exclusive First Edition, have a standard 2.0L turbocharged inline-4 engine, which cranks up the excitement level with 250 horsepower and 277 lb-ft of torque.
Towing loads up to 2,200 pounds is possible with the Bronco Sport when it is properly equipped with the available towing package. Meanwhile, the interior provides ample seating for five adults, with a maximum cargo space of 65.2 cubic feet. The standard roof rack provides support for an additional 150 pounds of cargo. If you're looking to tow it or stow it, the Bronco Sport is perfectly capable of packing it along for the trip.
The Bronco Sport also has the ability to take on some serious obstacles. The Badlands models, for example, can ford up to 23.6 inches of water when the optional off-road tires are added. Each Sport is equipped with what Ford terms "H.O.S.S.," which stands for "High Performance, Off-Road, Stability Suspension." Specifically tuned to withstand an incredible range of terrain, this system is built with hydraulic rebound stops on the front struts. The rear shocks are 46mm monotubes, and the softer springs and anti-roll bars provide enhanced stability in rough terrain.
G.O.A.T. (Goes Over Any Terrain) modes are also available on all Bronco Sport models, though the Badlands trim includes two extra modes. These drive modes allow drivers to select pre-programmed torque, steering, and handling settings, each optimized for different types of driving. Sand, Slippery, Eco, Sport, and Normal are available on all models, with Mud and Rock Crawl added for the Badlands trim.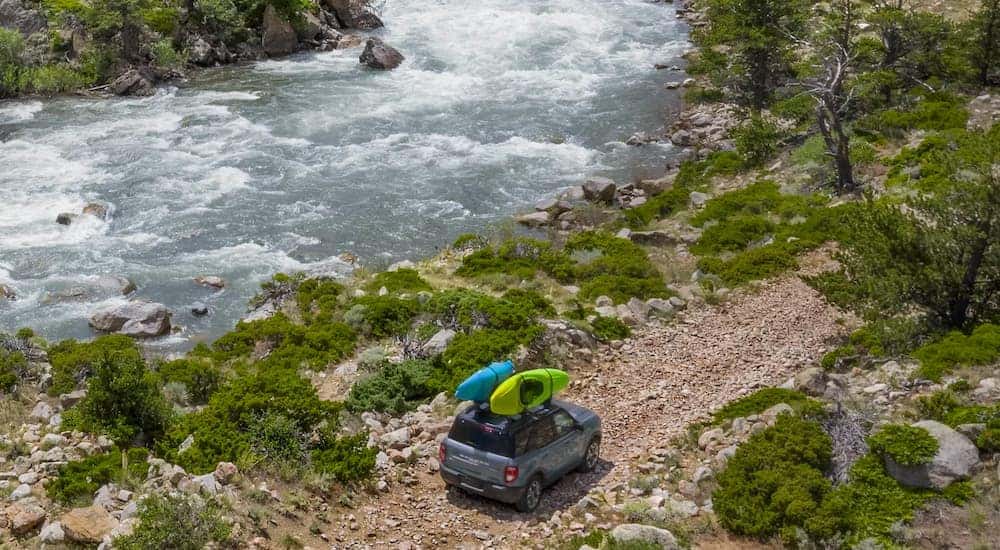 Trims and Features: The 2021 Bronco Sport Has It All
The 2021 Ford Bronco Sport is offered in four trims: Base, Big Bend, Outer Banks, and Badlands. The First Edition model is also available as a 2021 exclusive to celebrate the return of the Ford Bronco and the birth of the Bronco Sport. While the top trims add luxury, even the Base model offers plenty of fun and excitement.
The standard infotainment system features SYNC3 technology with voice recognition, AppLink, and compatibility with both Apple CarPlay and Android Auto. Four USB smart charge ports are offered throughout the cabin, including both USB-A and USB-C style ports. Ford's standard CoPilot 360 technology is also on board, including Pre-Collision Assist with Automatic Emergency Braking, a Blind Spot Information System with Cross-Traffic Alert, a Lane-Keeping System, and more.
As the trims climb, the CoPilot 360 technology becomes more robust. The Big Bend trim, next on the roster, adds SiriusXM and optional navigation, which are not available on the Base. The Big Bend trim also adds plenty of convenience features, such as Intelligent Access with push-button start, a rubberized floor in the cargo area, and easy-to-clean front bucket seats.
Moving up to the Outer Banks trim unlocks some more luxurious features. On the outside, the vehicle is amped up with 18-inch alloy wheels, a remote start system, and rain-sensing windshield wipers. Interior ambient lighting joins the cabin, along with a 110V/150W AC Outlet. The steering wheel is upgraded to a heated leather version, with heated, power-adjustable leather-trimmed bucket seats for the driver and front passenger.
The Badlands trim is distinctly ready for some serious shenanigans. In addition to the addition G.O.A.T. modes, the Badlands includes Trail Control, which is like cruise control for rugged terrain. A front 180-degree view camera with its own washer system reveals the obstacles in your way to the infotainment touchscreen. The entire interior is even rubberized for easy clean-up, and rear under-seat storage has been added to this trim.
The First Edition strongly resembles the Badlands trim, only with a little extra comfort and convenience. The First Edition Bronco Sport includes leather-trimmed seats, a ten-speaker Bang & Olufsen audio system, a wireless charging pad, and a power moonroof, making the interior blissful regardless of the terrain. It retains the 7-mode G.O.A.T. system and 180-degree camera, too.
What Makes the 2021 Ford Bronco Sport the Ideal Adventure Drive?
One key area in which the Bronco Sport is ready to roll is its cargo capacity. The main cargo area, with its easy-to-clean rubberized flooring, is a great place to stash wet, muddy, and otherwise messy items. A carabiner tie-down and loop system helps you secure cargo from rocking or rolling, regardless of where you're traveling. The front seat backs provide additional storage space, thanks to class-exclusive zipper pockets complete with a MOLLE strap system to hold your essentials during travel.
Add to this with the available Cargo Management System, which includes dividers and shelves to make your cargo area more conducive to your adventure, and you are ready for anything. A fold-out camp table – part of the Cargo Management System – can provide multiple uses, too. The bottle opener integrated with the liftgate is yet another way Bronco Sport can lend a hand.
One common issue encountered on adventures is the lack of lighting. Once the sun goes down, you're left with flashlights and fire. The 2021 Ford Bronco Sport models include available 110V household power outlets both inside the cabin and in the cargo area, depending on the trim or package chosen. Rear flood lights installed in the tailgate are another great feature for camping in the dark or just unloading your Bronco Sport after a long day.
Many adventurers are accustomed to sleeping in their vehicles, but with the 2021 Bronco Sport's strengthened safari-style roof, you can sleep on your vehicle as well. When parked, the static load capacity of the roof is 600 pounds, perfect for the addition of a rooftop tent. If you can find a place to park your Bronco Sport, you're set to explore for as long as you like, with the Sport serving as a base camp for all of your wandering.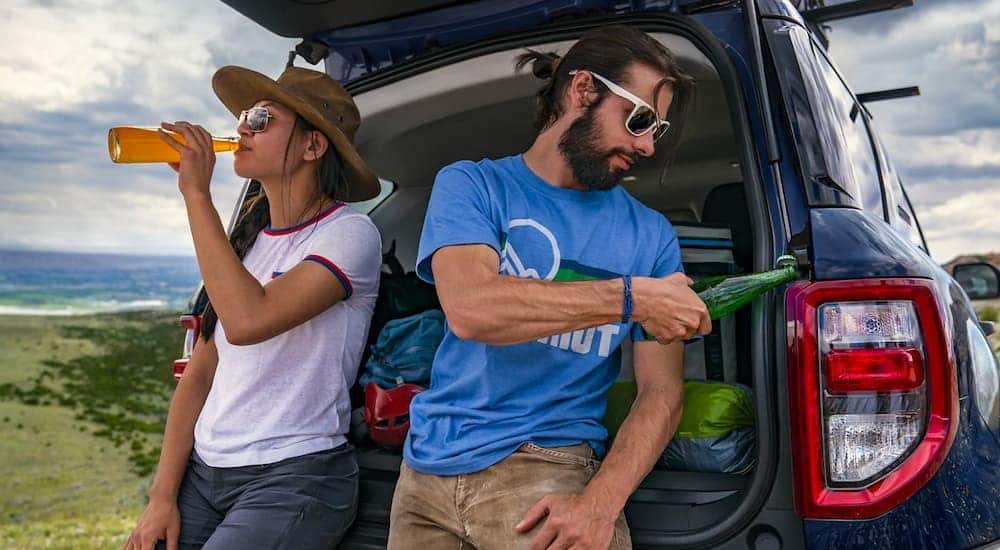 You Are Set for Adventure with a Bronco Sport
Wandering is an admirable past-time, with more and more people expanding their horizons and leaning into a variety of wild adventures. But if your lifestyle requires a little more work than play or less than full-time excitement, the Bronco Sport is an ideal companion. Not only does it perform well on city streets, with its sleek yet exciting appearance and abundant convenience features, but it's designed to accommodate a wide range of adventures.
Whether the mountains are calling or you can't wait for a weekend at the lake, the 2021 Ford Bronco Sport is ready to go when you are. From a comfortable and accommodating cabin to adventurous features like an easy-clean cargo area equipped with carabiner hooks, the Sport has a lot to offer on and off the beaten trail. Load up its spacious interior with gear, and get ready to discover the world from behind the wheel of the Ford Bronco Sport.