Why the 2022 Ford F-150 Lightning Is the Most Exciting F-150 Yet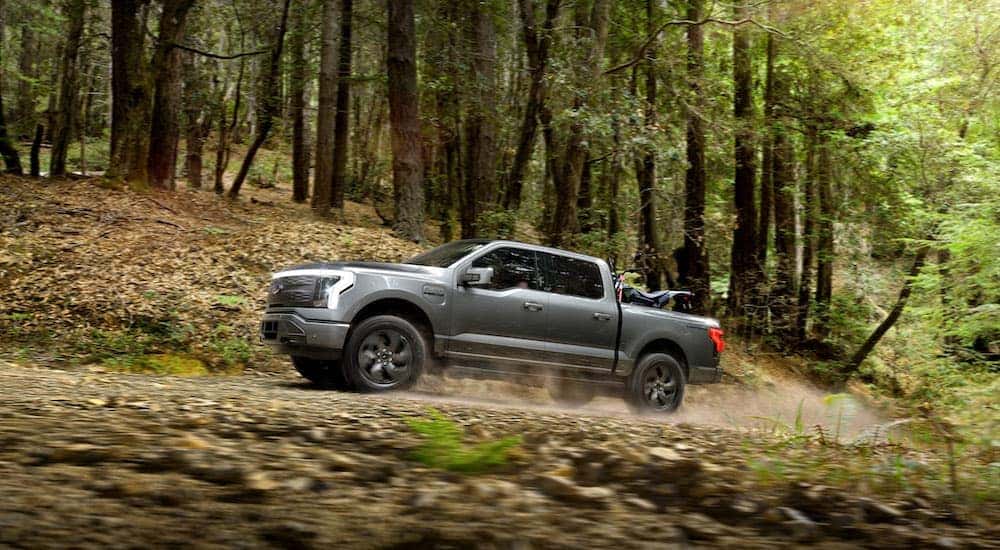 The Ford F-150 is already one of the most popular trucks in the world, consistently ranking as a consumer favorite year after year. Maybe it's their amazing load-bearing power, trailing strength, or on-road speed. Maybe it's the F-150's capability off-road and comfortable cabin. Or maybe, it's the electric powertrain? The latter will certainly be true of the 2022 Ford F-150 Lightning, an upcoming Ford electric vehicle that's sure to turn heads.
After all, electric vehicles are famously small, with middling engines and compact cabins, right? Actually, electric power can now make much larger, more potent vehicles like the F-150 economical and emissions-free. Ford's electric trucks aren't just designed to replace gas and diesel power; they're designed to exceed the engineering of the past.
The upcoming F-150 Lightning may surprise you for a number of reasons. Most shocking, though, is that this electric truck will be just as tough as you'd expect from the world's best family of trucks. Ford has shared some exciting info about the Lightning, and there's already so much to love. Here are some of the best features of the 2022 Ford F-150 Lightning, starting with some incredible facts about its electric powertrain.
It's Economical
This may not surprise the public at large. Electric vehicles are known to be economical. Charging up an electric battery is far cheaper than paying for gasoline or diesel, and with electric cars' extended driving ranges, you fuel up less often, too. The same applies to the F-150 Lightning, which can travel between 230 and 300 miles on a single charge. Mileage varies based on the model you take home.
Just how potent is the 2022 Lightning's innovative electric battery? Thanks to Ford Intelligent Backup Power, a feature of the new Lightning, we've learned that its fully charged electric battery can power an entire house. It doesn't just generate short-term power either; you can get from 3 to 10 full days – yes, days – of backup power from an F-150 Lightning. And all this power rests in a battery small enough to fit under the hood of a full-size pickup truck.
Unlike other electric vehicles, the F-150 doesn't come at a premium, either. Electric cars often outprice the average shopper, leading to quite the conundrum: worthwhile energy savings at a buy-in price that's far too high. This isn't the case with the 2022 Ford Lightning. It's currently priced starting at about $39,974,* a rate that sits comfortably in the middle of the F-150 model range. Also, don't forget that electric vehicles are consistently lower-maintenance, which saves you money on repairs, parts, and other costs.
It's Just as Powerful
In order to "go green," you have to make sacrifices. That's why the Ford F-150 Lightning is less powerful than other pickup trucks – or so you'd expect. In fact, this couldn't be more wrong. It may be electric, but the Lightning is still made by Ford, which means this pickup has supreme engineering on its side.
It accelerates better than previous editions of the F-150, with projected figures of up to 563 horsepower and 775 lb-ft of torque. The all-electric motor in the 2022 Lightning can deliver impressive torque at low speeds, meaning you can sear from 0 to 60 mph in less than 5 seconds. These are sportscar-level figures that just might put this F-150 ahead of its class.
As for towing, the 2022 F-150 Lightning is projected to deliver up to 10,000 pounds of towing – enough to pull an RV, a moving trailer, and even another vehicle. Haul your sports equipment out into the great outdoors without having to pay a premium at the pump or pollute your way into mother nature. You can also enjoy up to 2,000 pounds of payload – enough to put this truck to work without sacrificing a satisfying drive.
The 2022 Ford F-150 Lightning will also be one of the few electric vehicles around that can handle off-road driving. Two motors deliver power to all wheels for 4×4 traction and power that traverse difficult terrain with ease. Available equipment includes metal skid plates, underbody protection, and battery protection exostructure, all of which ensure your F-150 Lightning can handle some seriously rough treatment. Scroll through multiple drive modes to adjust your driving automatically to trail conditions.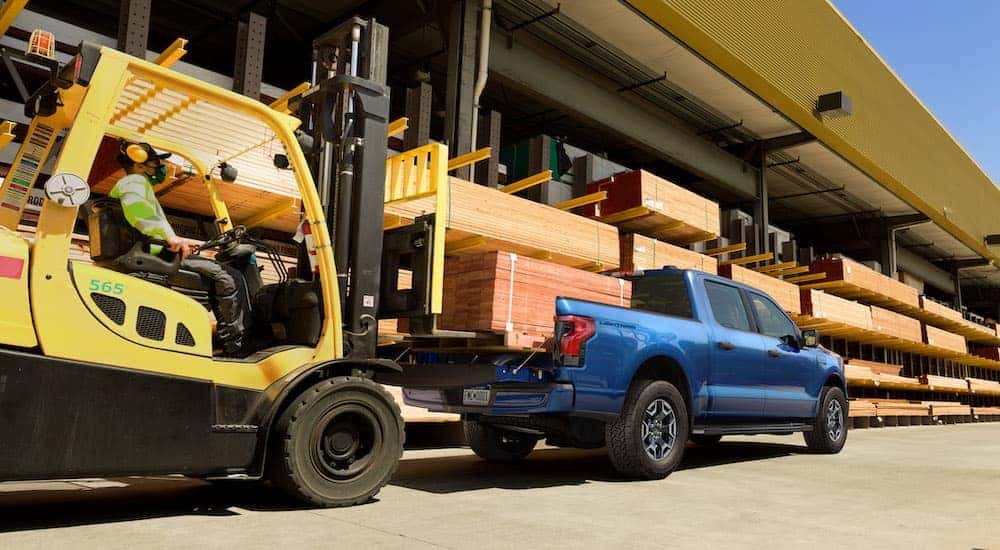 It's a Tech Wonder
The 2022 Ford F-150 Lightning doesn't just rely on innovative engine power; it's enhanced through and through with the latest and best technology. So many convenience and safety features are built into this truck that Ford may rival luxury imported vehicles – and not just in terms of price.
Modern charging stations built inside and out help you stay connected on the go, while Pro Power Onboard delivers electric power through 11 outlets so you can be productive. Take your F-150 Lightning out to a camping trip and power your appliances, or pull into your worksite and have full usage of power tools, laptops, and more.
Amazing infotainment tech lies at the heart of the 2022 F-150 Lightning's cabin. A huge, 15.5-inch touchscreen rivals handheld tablets, so you can easily scroll through your favorite apps as you travel. Connect your smartphone and stream entertainment, use voice recognition to make commands, and even select specific driver preferences in a shared vehicle.
The available SYNC 4A infotainment system connects you to a variety of entertainment services, as well as multiple towing assist features like a detailed camera that helps you connect a hitch with ease. Best of all, it's compatible with the FordPass app, so you can get real-time data about your vehicle in the palm of your hands.
Other smart features include a digital productivity screen, a cluster display that includes detailed, crisp computer images and smart data about your vehicle and driving. The screen adjusts to your driving mode to keep things interesting. Meanwhile, available Co-Pilot360 safety features protect your truck and passengers as you navigate busy roads, parking spots, and trails. Rely on this suite of safety features to check your blind spots, trailer surroundings, the lanes beside you, and even pedestrians who step in front of your vehicle. You can drive with total peace of mind when you're behind the wheel of an F-150 Lightning.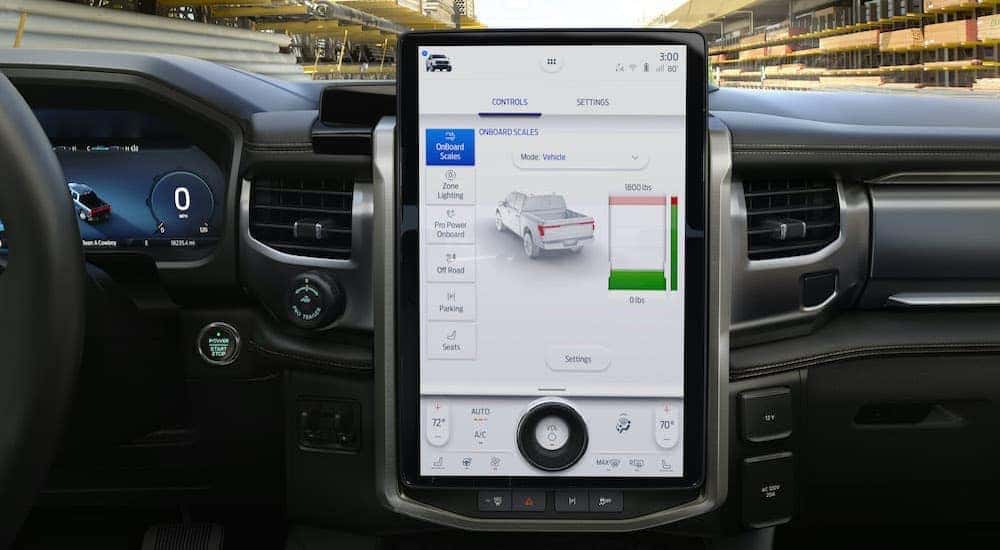 It's Hardly an Adjustment
Many car shoppers view making the switch to electric as confusing or even overwhelming. They may assume that the change from traditional gas or diesel vehicles requires an adjustment period. However, managing an electric vehicle is extremely easy. The 2022 Ford Lightning will come with 110 and 220-volt outlets that enable you to charge up your car right at home. Plug it in like any electric device with the provided equipment, and your F-150 Lightning will power up in a short amount of time – up to 80% battery in only 44 minutes. It takes energy from the power grid just like any other electric appliance or machine.
If you're on the go, public DC Fast Charging stations are the perfect solution to fuel up. Or, you can easily find another standard outlet to recharge. You'll never need to visit the pump again; who would miss visiting a gas station, anyway? Over time, you may even wonder why you ever resisted going electric.
In all respects, the 2022 Ford F-150 Lightning is sure to exceed expectations, all while delivering the same Ford F-150 power on which Americans have come to rely. It's the most innovative Ford truck yet, while also the most thrilling to drive. At its attractively low price, there's almost no reason not to give it a test drive. Keep following your local Ford dealer for information on reserving a 2022 Lightning, or even customize your own model.
---
*MSRP may change without notice. See dealer for complete details.